February 13th, 2012
Mysterious Hart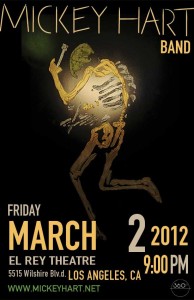 From Press Release:
SAN FRANCISCO, CA- Three time Grammy winner Mickey Hart announces his new studio album and tour. Hart's new album entitled Mysterium Tremendum, his first in five years, follows the 2007 Grammy award winning Global Drum Project. Mysterium Tremendum is set for release on April 10, 2012.
With Mysterium Tremendum, Hart is pushing the boundaries of what we know as music, creating a genre of his own. "I have always thought of life, the world at large, as music," says Hart. "This work is a physical representation of that notion. I have combined sonic images of the formation of our universe with sounds drawn from musical instruments. It's all about the vibrations that make up the infinite universe. In this case, they began as light waves and these light waves are still washing over us. Scientists at Penn State, Lawrence Berkeley Labs, and Meyer Sound have transformed these light waves into sound waves. This band is exploring a new musical topography. These musical excursions transport me to wonderful and strange new places filled with rhythms for a new day. The combination of music of the whole earth and the sounds of the planets, the stars, the events that formed our universe is intoxicating and points toward an awareness of what music is, could be, and where it comes from. "
For this new work Hart joined with long time Grateful Dead lyricist Robert Hunter to pen the words for these songs. "Hunter is a bold visionary writer who knows where I am going with this music," says Hart. " He is indispensable to the weave of this story."
Fresh off the road from a sold out 19 date tour, The Mickey Hart Band will be back on the road, and "ABOVE THE CLOUDS", touring in March and April to support the new album.
"The groove is strong and the band is on fire!", says Hart.
The Mickey Hart Band lineup consists of Widespread Panic bassist Dave Schools, Grammy winning percussionist and longtime bandmate Sikiru Adepoju, Tony Award winning vocalist Crystal Monee Hall, singer Tim Hockenberry, drummer Ian "Inx" Herman, guitarist Gawain Matthews, and keyboardist Ben Yonas. JamBands.com gave the band's recent tour stop in NYC rave reviews stating that "Mickey Hart is nothing short of a musical genius and it shines through in everything he does. Whether he's working with George Lucas, NASA, or throwing together a unique group of musicians for a band, its apparent that Mickey isn't satisfied doing the same old thing….."