A Band of Drummers: Taylor Hawkins & The Coattail Riders
The Troubadour, April 20, 2010
By Steve Krugman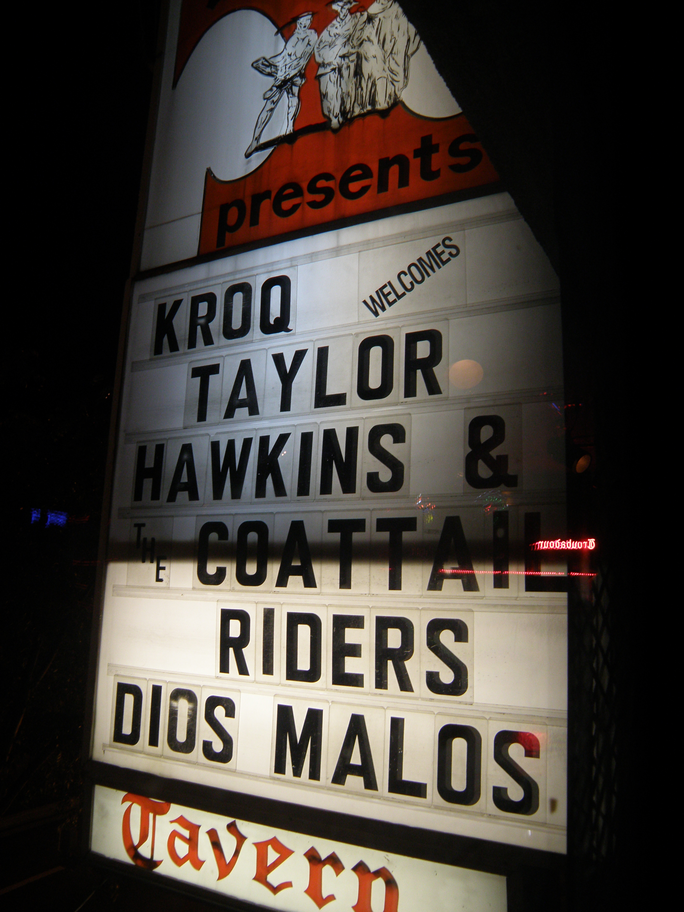 I See Your Eye-Roll And Raise You A Brow
When the drummer for mega-band Foo Fighters names his side project "The Coattail Riders," how can you not be on the guy's side? The gesture quickly steadies all eye-rolling with a self-tempering wink; the bet calls any brow-raising. Like the band on the tails of which Taylor Hawkins rides (coattails of coattails), there is little pretense or fuss. Whether rock is best when it's fun could be debated; but it's sure more fun when it's fun. All the better if it's good.
If their name announces that there shall be no moody bowed guitar solos, their record-release performance Tuesday, April 20th at The Troubadour proved they don't suck. Red Light Fever, the follow-up to their 2006 self-titled debut, was released the same day. Regardless of whether an afternoon KROQ leak that Dave Grohl would be sitting-in had anything to do with it, the venue steadily filled to near-capacity. There was a buzz. Our V.I.P. passes got us past security to the glass-enclosed upstairs lounge, but not onto the open loft on this night. Something about an "All Access Pass" and "celebrity guests of the band." Just after the first chunky power chords of the show, we gained access to the spottily populated loft. Not counting a dubious Ashlee Simpson sighting, it remained celeb-free; and an ideal perch.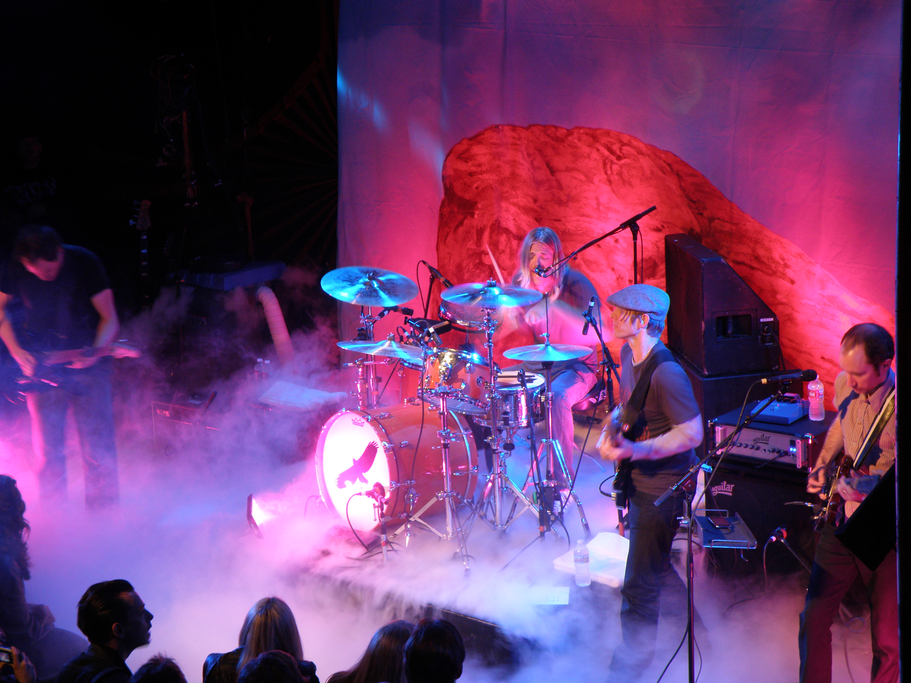 It's His Band
I've seen a lot of rock shows at The Troubadour, but it was instantly clear that this was to be a rock SHOW. An Ed Wood-ian, creeping, knee-deep haze overtook the stage; fortified lighting production kicked things up a notch visually and cast morphing colors in all directions; the otherworldly, album cover-inspired backdrop seemed to place the whole band on an eerie low-budge '60s sci-fi movie set; and did Hawkins bring his own giant drum riser?—the thing took up three-quarters of the stage. It is his gig.
And it's his band. The rockstar drummer has assembled a stellar lineup: Chris Chaney on bass, Gannin Arnold on lead guitar and support vocals, and Nate Wood on rhythm guitar and support vocals. Yeah, that Nate Wood. Hawkins sings lead from behind the kit for most of the set. I recently saw a clip of Larry King interviewing Willie Nelson. Stay with me. He asked Willie if he is a singer who plays guitar or a guitar player who sings—a question as old as the last record King bought. Well, let's just cut to it: Hawkins is a drummer who sings. It is the high-end musicianship, sparkling hooks and tight arrangements that propel this band; not the generic, utilitarian singing of its leader. Best to get that out of the way. But really, the realization is an afterthought. In the heat of it all, the live experience of Taylor Hawkins and The Coattail Riders essentially lives up to its promise: it's a rockin' good time.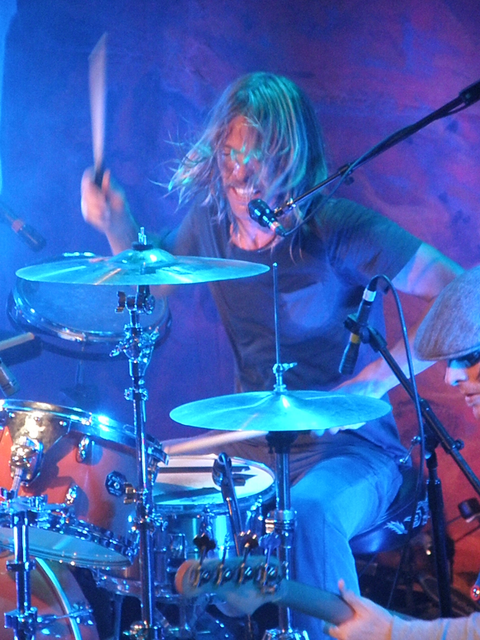 Tan And Able
Hawkins, from the neck up, is gleaming white teeth framed by a blur of tan and blonde; below, he is a blur of high-arcing arms and sticks. He is physical. He is committed. He ably pulls off the role of drummer-as-frontman. He assumes the role with confidence, and with an ease that belies his intensity. It's a compelling and ultimately entertaining contrast to observe at center stage. I once wondered (once) how the ilk of Britney Spears can run-around like a coked-up Richard Simmons all night with a wireless headset and still have the breath to sing. The answer may be obvious. In Hawkins' case, it is less so. He's actually singing and this is not The Eagles. Impressive. If you know of his drumming by way of Foo Fighters, there were no surprises there. Hard-hitting. Flammed backbeats. Smart parts. Controlled abandon. Good humored. Impassioned.
Any positive mention of feel or time must acknowledge Chaney. But, more than just transparent foundation, his bass lines contributed signature melody and prominent low-end motion. If you weren't paying close attention, Arnold, ironically, could have gone rather unnoticed on lead. By no fault of his—this really is more of a riff and rhythm section-centric operation. Indeed, he was faultless. Then there is Wood. A superlative drummer, he puts the rhythm in rhythm guitar and humbly held his ground far stage left. A great musical ear crosses instrumental perimeters; and along with a sophisticated use of tones, he was the sonic embodiment of successful stage production—fog, lights, backdrop and all.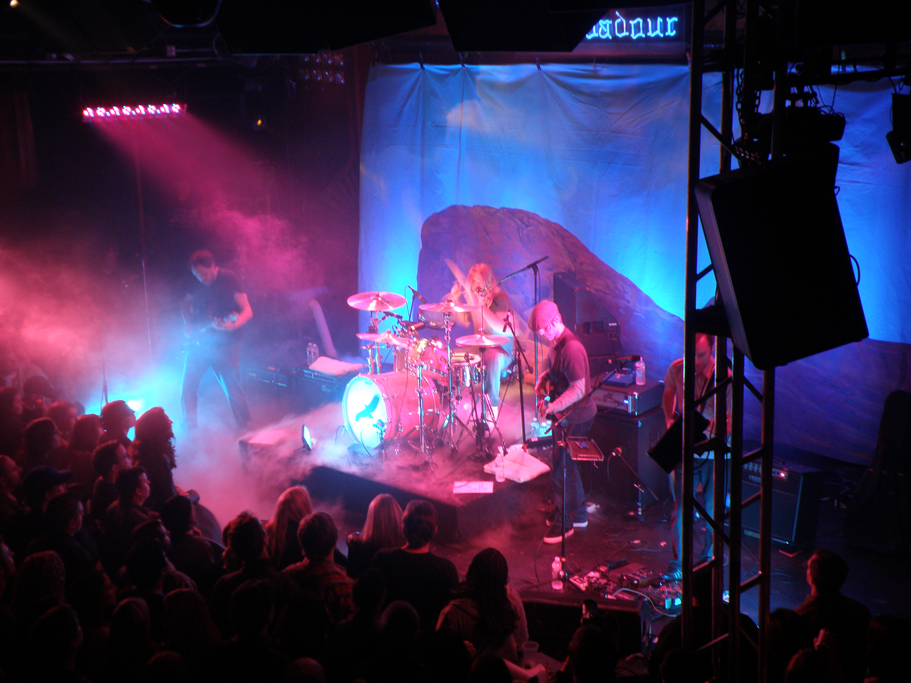 On Coattails
I like Foo Fighters. Back when Grohl was the original coattail rider in 1995, that first album was surprisingly good, and as a drummer, a relief. When drummers step out from rear stage into the spotlight, it's still enough of a novelty to remain precedent setting. Sorry, Ringo, but we've had some damage control to do. Grohl, the brutish, crash-riding, hair-bomb of a drummer in Nirvana, brought viable vocal and guitar playing abilities along with a lean, pop-potent song writing prowess to his new band, and did us drummers good. By the third album in 1999, Hawkins had been the drummer for a couple years, and Foo Fighters had established a Sound. And coattails of their own.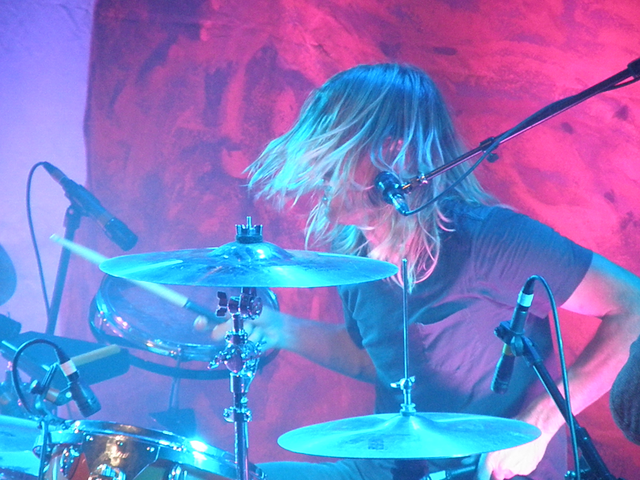 Hawkins' still lower-case sound derives unmistakably from his parent band, with nips and tweaks here and there—similar rhythmic drive, melodic confection, and abrupt stops and starts; but a bit more time signature dialing and sub-genre excursion. Compositions were varying degrees of pop-rock triumph; and arrangements were interesting, musical and smart. Lyrically, few lines proved memorable at first listen, but for a repeated refrain of "I don't think I trust you anymore." The words "think I" give this simple line complexity, and I immediately appreciated its power. My overall impression of the music is that of having met a familiar stranger you wouldn't mind running across again—you may even go out of your way.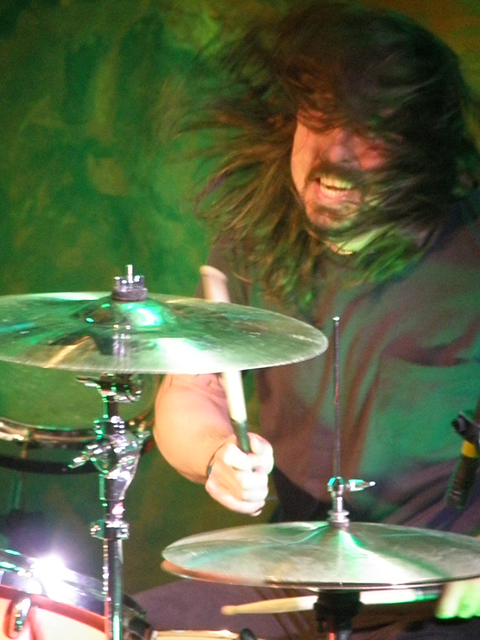 Together Again (Naturally)
The quartet played over an hour before a two-minute break and the special-guest portion of the show. First, a couple backup singers for a tune. Then, guitarist/producer Elliot Easton (The Cars) came up for a couple. Then, Chicks and Dudes, the KROQ leak you've all been waiting for—or not: Dave Grohl. The Troubadour is a small room for Grohl as rock icon; the crowd goes nutty and you half-expect the walls to buckle. Grohl, once the drummer for a rockstar, is now the rockstar sitting-in for his drummer. Any other illusions were drown in the roar of his welcome. Perhaps to compete, the PA also jumped a few decibels—things got loud.
Grohl and Hawkins are rock's Mandrell Sisters—if Barbara was brunette and the dark-haired one was blonde, and…nevermind. All right, they are just a couple of rock and roll bros who when playing drums—or not playing drums—are discernable mainly by the shades of their bountiful hair. Did they bond over their similarities or are their similarities a product of their bond? Is there a doctor in the house? In any case, they seem to belong on stage together. And they seem to truly like being on stage together. We've established that rock is more fun when it's fun, and this was pretty fun. Grohl basically tagged Hawkins and seamlessly carried on with high-swinging and mane-tossing—yet smart—drumming; while Hawkins took front stage and tried to figure out what to do with his hands.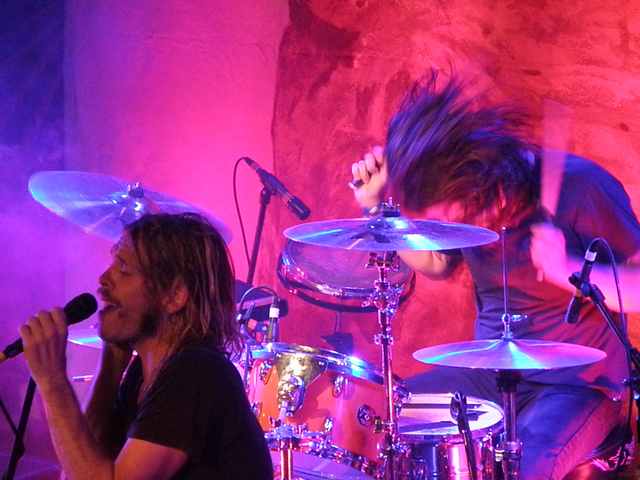 How Many Drummers Does It Take…
Dig this: Dave Grohl on drums, Taylor Hawkins as front man, and Nate Wood on rhythm guitar. A band of drummers. Pretty cool. To me, that was the novelty of the evening. Wood on rhythm was the kicker. We've seen The Bros do this before, but with Wood—the drummer for avant-jazzers Tigran Hamasyan and Kneebody; and one-time-Olympic figure skating commentator, John Tesh—on guitar, is just…well, novel. Have to say, it would have been more interesting for me (likely only me that night) to see Wood on drums and Grohl on guitar. Outside of hometown record-releases, Wood may assume the relief-drummer chair on tour.
After the show, Nate summed the whole thing up as a good time. He simply has more invested in his definition of himself as a drummer; and getting to rock a set as his alter-ego is skylarking. I got the same impression from Taylor Hawkins.
Check out video of the show.
Photos by Deb Jordan