December 20th, 2010
Hittin': Alan Evans @ The Roxy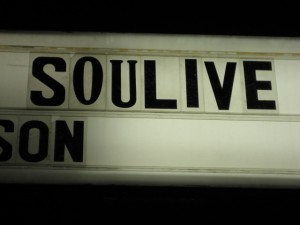 Soulive at The Roxy, December 16, 2010
Soul Kitchen
It was a Thursday night at The Roxy on Sunset and the dark, open room was throbbing with an electronic/funk&soul concoction mixed live by a bobbing silhouette dubbed Quikie Mart above in the isolated crow's-nest DJ booth. Bodies were bumping on the floor and the bar was busy cranking 'em out. A wide-ranging—though largely young and hip— capacity crowd was simply biding time before the warm-up and main events. Pretty typical, really.
The interesting bit about this particular Thursday night at one of Hollywood's most storied rock clubs is that the main event was an instrumental soul-jazz organ trio whose name is decidedly more underground than household. Even a few of my musician friends struggled with it: "Isn't that the…?" with varying accuracy. But Soulive have been simmering—burning, really—beneath pop terra firma since '99, and have attracted deserving attention among…well, as it turns out…a little bit of Everyone. A visual survey of the place revealed Hippies and Hip-Hoppers, music students (unmistakable) and pro players, Rockers and Jazzers, girls and boys alike.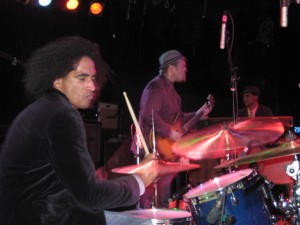 Evans, Krasno & Evans
Three Course Feast
Opener, soul-singer and keyboardist Nigel Hall, took the stage with two-thirds of Soulive, brothers Neal (organ) and Alan (drums) Evans. This arrangement not only makes for more room on the bus, but a cohesive (if bordering on homogeneous) and seriously grooving night of music. Hall and Soulive share tastes for nostril-flaring funky soul music, and predictably, the same record label. It was interesting and simply good fun to see the band backing a singer, and the unusual three-piece orchestration of drums, organ, and singer/keys worked beautifully. On whole, the night followed a seamless and logical progression from the NOLA-inspired DJ set, to the R&B propelled songs of Hall, to the full-out funky instrumental explorations of Soulive.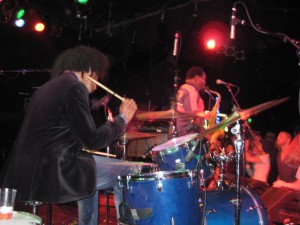 Hittin' hard behind Denson
Special Recipe
I'm a sucker for an organ trio. Smith, Burrell, and Bailey; Young, McLaughlin and Williams; Wall, Abercrombie and Nussbaum; and in the case of Soulive—Evans, Evans and Eric Krasno on guitar. The lush timbral and harmonic consonance of organ and guitar infuses warmth. The Hammond/Leslie combination, with a peculiar capacity to evoke the human voice (much like saxophone, only smoother tongued), personifies soul. Done right, the rhythmic chemistry of the organ and drums, with breathy and spacious pedalboard bass, react to yield uniquely bonding groove. Soulive hits on every level.
Still, to fill a rock club with bodies hippie-dancing, head banging, and ubiquitously moving takes more than configuration. It the case of Soulive, it takes infectious riffs, slamming groove, and urgent rock & roll energy. Across the spectrum, from high-swinging rocker to soulful ballad, the band remained committed and the crowd never wavered. It didn't hurt that interspersed with original material spanning ten-plus records were a few well-conceived arrangements of Beatles songs off their latest, Rubber Soulive.
For Extra Measure
Toward the end of the night, Soulive became alternatley a quartet and a quintet with the addition of guests Karl Denson (Lenny Kravitz, Greyboy Allstars) and Hall. Denson's unfailing sax and flute added gravity; and Hall lent himself to a theatrical highlight of the show, playing dual dueling-organ with Neal Evans.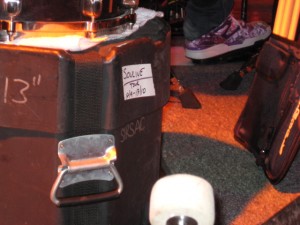 Purple Pedal Eater
Quality Ingredient
Alan Evans is an informed, natural, and inspired player who is fully comfortable and confident in his role. He owns the throne in this band. He's a guy who's clearly studied and absorbed the great soul and R&B (when R&B was R&B) drummers before him, and understands the power of playing relaxed. Pocket. Funk. Intensity. The organ trio heritage and improvisational element of jazz are essential Soulive aesthetics, and Evans' compositional, dynamic, and conceptual choices were right-on all night. He gets it alright, but as importantly, he also clearly enjoys it.
Damn!, That's Good
A soul-jazz organ trio, truly a band in every sense; with rock attitude; able to fill a Sunset Strip rock mainstay with an ardent, rocking audience? Rock on, Soulive.
Contact us.
Join Hollywood Drum on Facebook // Twitter.
Post your very own show reviews on the Hollywood Drum Forum.