July 23rd, 2010
Hollywood Drum Before Dark: Dresel Brothers
Dresel v. Dresel
A pattern has emerged. Our last two video interviews have either preceded or followed companion Hittin' reviews here in the News blog. We hold consistent with our latest interview featuring Bernie and Jonathan Dresel.
Not long ago here, I indulged some impressions of a performance by BERN—Bernie's namesake twelve-piece band—at Vitello's. As it turned out, he liked it. He wrote in an email: "In a sea of lame reviewers, you stand at the top. No exaggeration!" I'm presuming that meant he liked it. I followed up with the inspiration of sitting down with him and Jonathan, drummer for Jimmy Kimmel Live, and getting the drummer/brother story. They were down…for a sit-down.
Pony Shows And Bunnies
In a further thread of consistency, we filmed the proceedings back at Vitello's with the venue's gracious and appreciated support. Indeed, we put on a little show with this one. No ponies, but we did have a bunny. In a distinctly distant nod to Hugh Hefner's late-60s TV show "Playboy After Dark," we themed our day-time production "Hollywood Drum Before Dark."
In place of a swank Manhattan penthouse we had a second-floor jazz club in Studio City. The singular semblance of a tuxedo adorned our alternately manic and disinterested announcer/sidekick, Billy. Our disgruntled, cigarette smoking Before Dark bunny had a charm of her own. And we were out by 2pm. Success. Still, the format promises to evolve with live performance and greater audience interaction. Stay tuned.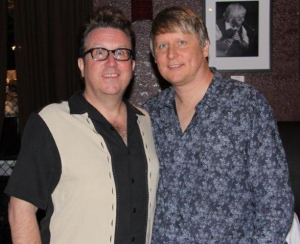 Drum Fraternity
Emerging through—perhaps despite—all of this, came the story of two brothers rising from a basement in Sharon, PA to high-profile careers as successful professional drummers in L.A. It's a good one, including tales of Beatles revelations and Elvis guitars; baton-twirlers; tap dancing and short-lived ballet classes; Sunday drives in the '61 Caddy; hand-me-downs to full-on double-bass Slingerland drumsets; bell-bottoms and Dingo boots; and other assorted brotherly intrigue.
Actually, the brothers paint the picture of what seems a largely charmed childhood together, and disciplined and purposeful journies to the heights of their profession. All with humor and genuineness. Great players and great guys. It was a true pleasure hanging with them for the afternoon. Watch it now.
Thank you to April Williams and Vitello's.
Contact us to sponsor a video interview.