October 17th, 2010
Hollywood Five-O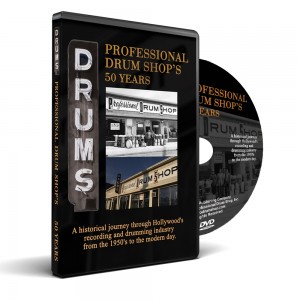 From Press Release:
The Professional Drum Shop in Hollywood, California is a must-see attraction for visiting drummers and a regular hang-out for Los Angeles locals. Activity at the Pro Drum Shop is intertwined with the history of drumming and percussion, and has been for over 50 years!
Visitors to the Pro Drum Shop have long been inspired by the vast collection of historical photos, drum sets and other music memorabilia sharing floor space in the store with an incredible collection of new and used percussion instruments. Finally drum enthusiasts all over the world can share the experience, and long time Pro Drum Shop fans can get the behind-the-scenes story.
Pro Drum is pleased to announce the release of its highly anticipated documentary DVD, "Professional Drum Shop's 50 Years". This 105-minute informative and entertaining documentary takes the viewer on a historical journey through Hollywood's recording and
drumming industry, with rare film clips, pictures, stories and interviews with some of the most famous and influential drummers of our time.
"We wanted-to share the stories that we've been hearing (or telling) at holiday parties for years" says Pro Drum Shop owner, Dolores Yeager. "What started as a history of a small store became a collection of interviews with some of the greatest names in drumming history."
"Professional Drum Shop's 50 Years" covers milestone moments such as the invention of the drum set, the rise of the plastic drum head and the arrival of the Beatles and their impact on the music scene from the 1960's to the modern day. Well known names such as Hal Blaine, Jim Keltner, Joe Porcaro, Emil Richards, Jake Hanna, and Remo Belli share their memories of the music scene in Los Angeles and the role of the Pro Drum Shop in their lives and music.
Hilarious and sometimes bittersweet, the stories are inter-cut with never-before seen photos and recordings from the Pro Drum archives as well as a musical soundtrack featuring Buddy Rich, Clayton/Hamilton Jazz Orchestra, Steely Dan, Tower of Power, Doobie Brothers and many more. A must for any music fan, this unique DVD will become a favorite for drummers and music historians.
Purchase here.