Bonzo Tribute: The Groove Remains The Same
Key Club, September 25, 2010
By Steve Krugman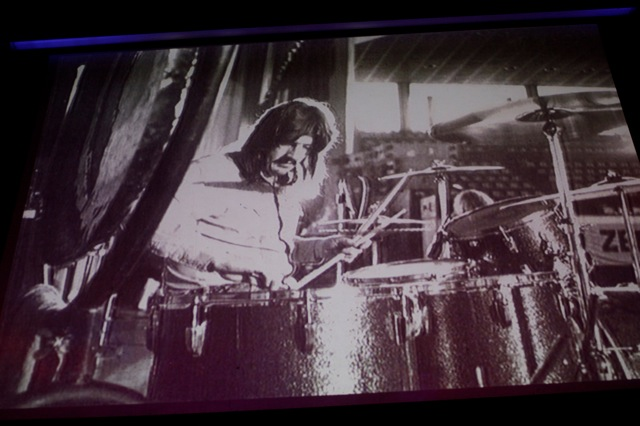 The Groove Remains The Same…kinda. The word play on Led Zeppelin's The Song Remains The Same was the title chosen for the John Bonham tribute held Saturday, September 25, 2010—thirty years to the day since his death. "The Groove" in question implicitly refers to the sound and feel that redefined the essence of rock drumming over the band's ten year reign. Whether The Groove died on that fall day in 1980 along with the man and the band there can be no mistake. It did. And to suggest otherwise is completely…acceptable. Undeniable, even. It is testament to his monumental contribution and influence. No one will ever play drums like John Henry Bonham. Yet he changed the instrument forever.
Both points were conclusively proven this past Saturday night at Key Club in Hollywood. It is an important preface. As we know from sputtering Zeppelin "reunions" since the drummer's death, and indeed all aging reunion bands, the magic of the past cannot be recreated. There are certain bands more magic than others for which this is even more glaringly true. The hypnotic magic of Zeppelin was the product of an intangible concoction of time, place, and chemistry. Let's be grateful for records and film. Ours to treasure in perpetuity while never to relive. It's equally applicable to the magic of John Bonham. His drumming in that band, at that time was transcendent. No, The Groove does not remain, but the spirit and inescapable influence do. The Groove and The Man were bestowed fitting, whole-hearted, and reverent tribute on this night.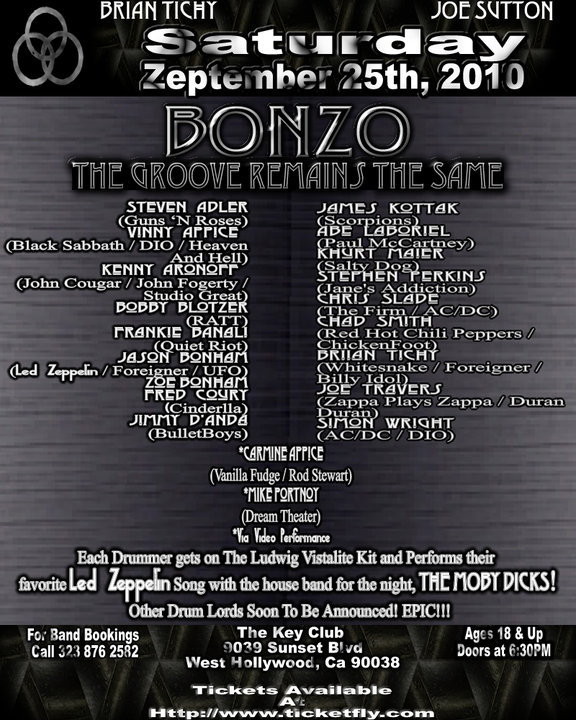 1% Inspiration
It was approximately six weeks before that L.A. journeyman rock drummer and certified Bonham fanatic Brian Tichy realized the thirty-year mark of his drumming hero's passing was fast approaching. He found himself with some time off the road and a driving inspiration to commemorate the occasion. Good thing for that time off. Before he really knew what hit him, that simple inspiration led to a pivotal phone call. The vision up to that juncture was humble and tempered—maybe a few drum bros acknowledging the day with an homage at some local bar. Tichy was reaching out for ideas and to rally support when he phoned legendary Hollywood impresario Joe Sutton. "Do you know what Saturday, September 25th is, Joe?" Joe soon learned. And it turned out that he had that very date scheduled to promote a night at Key Club. It was open. Magic. That intangible concoction of time, place, and chemistry. As catalyst, Tichy was now at the center of something bigger than he had ever dared hypothesize. Or bargain for.
When I spoke with him about one and a half weeks before the 25th, he was wound-tight with manic energy. Not surprising if you've ever seen the guy play drums, but this particular mania was channeled in a hundred directions toward a singular aim of pulling the night off. Pulling it off in a way that would honor Bonham; respect the family; keep the artists happy and relaxed; and provide an extraordinary show and meaningful experience for all. He sounded passionate and earnest and fully committed—purportedly investing 12-hour days leading up to the big night. This was going to be one super-sweet Bar Mitzvah for the cool kids.
I mention all this because I like the story. One guy was impassioned to act on an inspired idea for all the right reasons, and one door opened to the next; his enthusiasm became viral; more and more people wanted to get involved; the vision grew; he followed through; and ultimately, the thing became a full-on event and a hot ticket. So, on with it…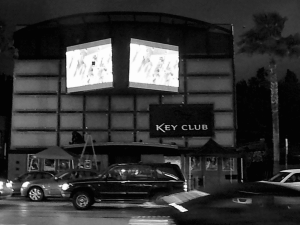 O-key Do-key
Doors opened at 7pm with the show listed for 8pm. Dubious, but not wanting to miss any action we arrived by 7:30pm. Any Saturday night on the Sunset strip begins the same way: predatory parking. Just part of the fun. Occupying the former home of legendary Gazzari's since 1998, relative Sunset strip newcomer Key Club has some soul. The spacious and high-vaulted room manages a relaxed charm and warmth. Soon before 8pm we were settled-in upstairs at a prime table near the bar. The reserved upstairs tables were filling with drum industry community and some of L.A.'s heaviest hitters. Bonham, and Tichy, had united the tribe in goodwill. That big-happy-family vibe once again substantiated among drummers. It's gettin' warm (and fuzzy) in here.
Our perch offered a clear shot of the elongated, gear-packed stage and overhead projection screen below us. A sprawling form of a drumset was provocatively draped front and center stage. Triple Marshall stacks sat in quiet (momentarily) glory stage left. A collection of acoustic instruments were aligned up front. Particularly seducing to me were the tabla and pedal steel. Someone walked onstage. A brief line-check morphed into song. The music unceremoniously began.
More Tabla
It was Mitch Perry's acoustic Zep set. A procession of Robert Plants swapped turns at the mic. The first, Swan Montgomery, set the bar early and left it untouched for the remainder of the hour-long set. The intimate instrumentation with cajon and percussion, pedal steel, and acoustic guitars filled the space with a lush and driving sound that underscored and highlighted the soulful and bluesy roots of classic Zep songs. Sadly, those tabla went unheard in the house.
That little audio lapse only added to the building demand for drums in the crowd. As Perry's group cleared the stage—conspicuously revealing that veiled and big-bottomed seductress center stage—the room congealed with tension and anticipation. With appetites whetted for the main course, musical sorbet came in the form of James Brown. That other JB. A smart choice. What to play in between Zeppelin sets to a stimulated throng populated largely with drummers? A little Jabo and Clyde is what. More magic to revisit; never to relive. Two more drummers never to be replicated; forever to be referenced and revered. Now, let's really give the drummers some.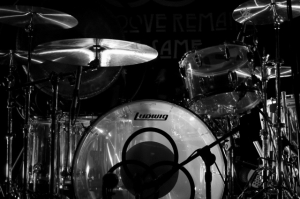 Show Us Your Toms
A tech or stagehand or some other lucky bastard finally walked onstage to slowly and at last disrobe the teasing object of desire. Bonham's drums are a monument to rock. Those 26″/14″/16″/18″ Ludwig amber Vistalites—and that sound—in particular are a universal prototype for rock drums and a pop culture symbol for rock and roll. There they stood, a museum-grade incarnation (excepting all that double-braced hardware) complete with 2002s, gong, timp, and clear "3 Rings" bass drum head—revealed with a flourish and a roar. There was chatter that this was the actual The Song Remains The Same drumset from the Bonham estate. At the time of this writing, The Rumor Remains Unsubstantiated. It's doubtful. First of all it looked way too sparkly new and secondly…well, really?! In any case, it looked pretty cool. And the stage was now fully set.
Hmmm…
This is where it gets interesting. I don't recall going to a show and receiving as many calls from others who were also there (or not) wanting to talk about it the next day. I attribute it partially to that drumset, the format of the show and, of course, John Bonham himself and what he represents both generally and individually to people…drummers.
Anyone who sits behind that kit in that context is going to necessarily channel Bonham's sound whether or not it is their intention or inspiration. In one way it establishes parity and in another begs comparison. The format of the night had each of eighteen(!) drummers perform a song (or two, Kenny Aronoff) on the same exalted drumset. It made me wonder how different an experience—for both drummer and audience—the Buddy Rich memorial concerts might have been had each guest drummer played on those marine pearl Slingerlands. Certainly it would have been fascinating and good fun to see. One difference, I suspect, is that by performing with the BR big band on their own respective instruments, each player had the freedom and sanction to bring their own distinctive style and approach to the music. On Buddy's kit, I suspect we would have witnessed many more inevitably bad Buddy Rich impressions.
So whether or not the drummers on this night were attempting to "do their best Bonham" or were simply raising a stick in his honor, it became hard to discern. Another suspicion came to mind. It doesn't seem likely that any one of the Rich participants actually believed that they could play like Rich if they tried hard as they might and clicked their heels three times. Somehow, I get the impression that drummers may believe that playing like Bonham is more accessible. It heightened the sense that there may have been some backstage heel-clicking going on. Certainly, it's all fun to consider and discuss and debate and chuckle about over the phone on the day-after. The truth is, on this night, none of that really mattered. This night was at its heart a celebration of a drummer whose influence is incalculable and indelible. And whose towering presence is missed.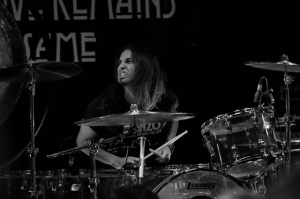 Pieces Of Eighteen
With this in mind, it makes it much easier—and more satisfying—to recap a few highlights and personal faves. The evening's host, Brian Tichy, rightfully kicked the band and the show off, opening with "Immigrant Song." Tichy is controlled abandon. He does controlled abandon on the drumset very well. His playing is aggressive and snotty with huge and wildly swinging strokes, executed with confidence and deliberation. He is a smart musician and he plays with purpose. And most importantly, beats land in the right places, if a bit urgently—and it all feels good. Add the pinwheeling hair and you have a seriously exciting rock drummer.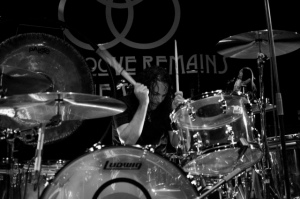 One of the evening's pleasant surprises was Fred Coury. Surprising because all that is commonly known of him is his association with late 80s glam-metal darlings, Cinderella. And because he rocked. Many of the same attributes ascribed to Brian Tichy apply to Coury's inspired playing on "The Wanton Song." He got it, and his performance caused a bit of a buzz. "That was Fred Coury?! The dude from Cinderella?!" Indeed it was.
Following Vinny Appice's (drummer #8) performance, I took the elevator down two flights to the bottom level of the venue for a needed break. As I tipped the attendant for handing me a paper towel (annoying as the concept itself is, these guys truly earn their tips), and headed back to the elevator, I could hear—and see via the closed-circuit TV feed—that the one guy I was most looking forward to see play some Zeppelin had already begun. Turns out you can't will an elevator to hurry the hell up. Still, I made it back upstairs in time to watch most of Abe Laboriel's performance of "Heartbreaker."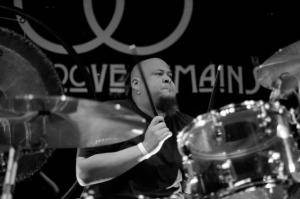 It's a pretty natural question for a drummer to ask. Given that it's difficult to imagine any drummer other than Bonzo, and that the rest of the band is still around and occasionally reuniting: Who would be best suited to play drums with Led Zeppelin? Laboriel ranks among my top five for the job. We've covered that no one is going to recreate The Groove. But when considering some of the most essential elements of his playing—the weight, the swing, the discipline, the looseness, the fearlessness, the composition, the depth and subtlety, the energy, the tone, the pocket—Laboriel seems uniquely qualified. Well, here was the opportunity put the theory to the test. For me, it was the highlight of the show in that respect. He took the essence of Bonham (rock-drumming DNA by now) and played the song as Laboriel. It wasn't a taxing stretch, really, and it worked beautifully. He's made the callback.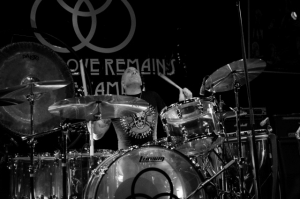 Kenny Aronoff came for "Rock and Roll" and stayed for "Black Dog." He was the only drummer of the night to play two songs except for Tichy—even Jason Bonham only played one-and-a-half. With signature hyper-energy, he drove both songs powerfully and with evident respect. That's not the first time he's played the intro to "Rock and Roll," guaranteed.
Chad Smith was drummer #17. The amount of detail planning that went into this night over a relatively short period of time was impressive. If there is a next time, and I'm rooting for it, I trust that a bit more thought will go into how long the thing actually goes on. Even the drummers in the room were wearing down, let alone the girlfriends. Still, Chad Smith re-energized the place on "Achilles Last Stand." It was pleasing to see him simply rock hard and solid; and he is another who demonstrably payed heartfelt respect with his performance.
The Bonhams
From where we were sitting, John Bonham's family—including his sister Deborah and daughter Zoe, both of whom sang on stage—were gathered just forward and to our left. They weren't simply celebrating a beloved drummer as were most the rest of us; they were commemorating thirty years without a beloved brother or dad. This was personal and their presence elevated the meaning of the evening. There wasn't really a specific John Bonham moment. The whole thing was in his honor: his image high above the stage, heartfelt words offered in his memory, that kit and all that music. Still, perhaps the most significant moment for me came at the close of the night—a good six-hours from the open of the night—when son and drummer Jason Bonham took the stage.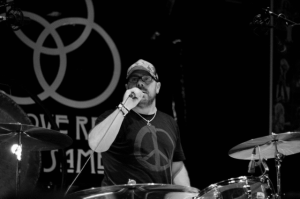 He didn't say much when he briefly took the mic…and didn't need to. He can't believe it's been thirty years now. He continues to constantly learn something new from his father every day. This one was for dad.
The song? "Kashmir," of course. Jason Bonham knows these songs. They are in his bones and his earliest memory. Amazing photos of him as a child with dad or behind a mini-drumset flashed above. He not long ago played the Led Zeppelin reunion concert in London. It was touching at the end of it all to see the blood legacy of John Bonham play one of his masterpieces.
The Moby Dicks
The band, the Moby Dicks, then busted into their namesake number and the finale, finally, was underway. All drummers to the stage. Grab something to hit. Or shake. Tag on and off the drumset and try not to knock over the rack tom and play 8 or 16 or 26(?!) bars of groove solo or not-groove solo and try to get off the drum riser without falling (they'd all had a good looong break backstage) and have fun and high fives and knucks to your drumming brethren. Here comes the confetti! Tichy have the last word and lead the band to the coda. Gong! Good show everyone! To Bonzo! It was 2am. Off to Jerry's Deli.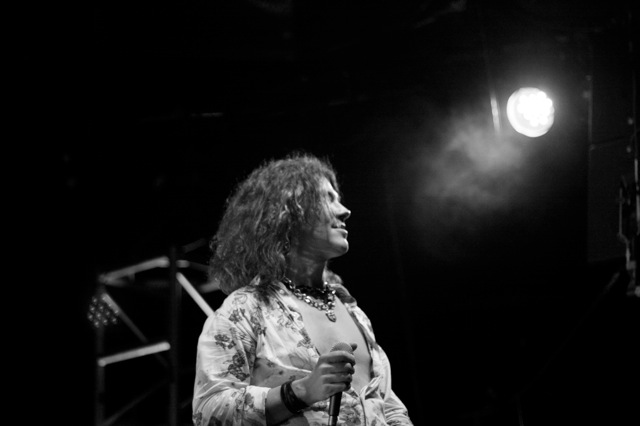 A hearty shout to the band: Keith St. John, vocals; Brent Woods, guitar; Michael "Denim" Devin, bass; Stephen LeBlanc, keyboards; and Brian Tichy, guitar. That's right: Brian Tichy, guitar. Didn't mention that part. He's good. They nailed twenty-three (to my count) Zep tunes and all played themselves ass-less. Singer Keith St. John (not St. Hubbins) is roundly deserving of special mention. This guy did a seamless and tireless Robert Plant impression for about five hours. A lesser singer and Plant-ringer could have brought the whole operation down. He raised it. Cheers.
Coda
So, how about next year, Brian? I smell annual event. Or is that just my neighbor's curry? There are so many more drummers who would love to pay homage and who would be compelling to hear behind those amber Vistalites. Hell, maybe even bust out the green sparkles next time. For the record, I am putting my request in early for Brian Blade.
A lovely tribute. An impressive logistical feat. A rocking show. A labor of passion. Perhaps it is fitting that Deee-Lite get the final words: The Groove Is In The Heart.
For a full drummer and song chronology see our pictorial review.
Watch video of the event. (Thanks to Deb "Bisco" Jordan)
Revisit our promotional blog and Q&A with the drummers.
All photos © 2010 Alex Kluft Photography