April 7th, 2013
Hittin': Mike Clark @ Upstairs at Vitello's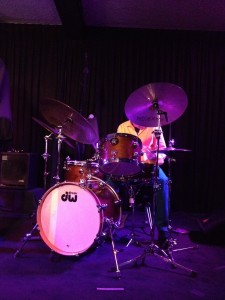 Raw. Uncensored. Honest. Fearless. Brash. Effusive. Provocative. Confrontational. Entertaining.
Words that describe equally Mike Clark's late-night smoke-out Facebook rants and his drumming style. Mike would likely have you believe it's a New York thing, man. You square, vanilla, boring west-coasters wouldn't understand.
A sample Facebook post: "I always find it laughable when cats talk about the groove, the pocket the time, gettin real funky and all that bullshit then they get up there and play as loud as they can they walk off the stage thinking it was killin ..meanwhile at that volume there is no funk, no groove, no grease and you can't play shit inside it..that is some juvenile stupid shit…"
A sample of his drumming style was dished out last night in a rare L.A. appearance at Upstairs at Vitello's with The Wolff & Clark Expedition. One thing is certain: The man knows something about playing shit inside a groove.
Mercy.
It doesn't require much interpretation to understand that Clark considers himself a bop drummer who happened to gain notoriety, and incidentally a career, from his stint as the supremely funky drummer in Herbie Hancock's seminal 70s fusion band, The Headhunters. By applying his bop roots and aesthetic to the stanky cauldron of funk that was San Francisco's East Bay music scene at the time, he won the gig and helped change the instrument.
The performance at Vitello's forty years later mostly showcased those roots. In addition to a couple swinging Michael Wolff originals, the late set hinted at a Real Book jam at times including renditions of "Song for My Father" and "Mercy Mercy Mercy." Choices that may have seemed lazy at first were adequately justified by accounts of the personal connections behind them. And what the hell, this wasn't just any jam: Wolff and Clark were joined onstage by veterans Bob Sheppard and Tony Dumas.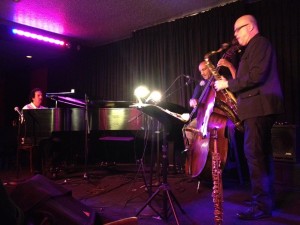 The inclusion of the incessant Zawinul composition–a piece Wolff played with Cannonball Adderley–alongside the more straight-ahead swingers, revealed a perhaps ironic dichotomy of Clark's drumming style; and one he might adamantly rebuke. On or off Facebook.
He is an accomplished bop drummer. As a funk drummer he is exceptional.
He is absolutely right (Duh.) about dynamic and touch largely defining funk, groove, grease, all of it. He took this truth from Melvin, Clyde and Jabo and blended in 52nd Street and the East Bay to create a signature style that is unmistakable, undeniable, and–sorry, Mike–inescapable. It's a joy and thrill to behold, and still the reason many show up…
Another Dynamic
Although on this Saturday night for set number two at the now esteemed Studio City jazz club, not so many showed up at all. And for those who did–at least for a large, buzzy center-room tableful–the second set began with an annoyed admonition from Wolff: "I can't play if you're going to talk. I mean, I don't mind not playing, but…".
I didn't blame him; I was, empathetically, on his side of the sentiment and stage. Must say, I felt a bit embarrassed for the Los Angeles jazz scene generally and the scene I found myself in specifically. The table at issue got up and left en masse mid-performance just as ill-manneredly as they sat down. The rest of us remained to enjoy these world-class musicians in peace and a full-range of dynamics. Wolff publicly expressed his relief that the table had cleared. "They were pissing me off." I later wondered if that explained the terse 45 minute set.
Clark proceeded to introduce a new tune saying, "This next one features someone on stage that I've been a fan of for a long time…me."
He wasn't alone.
Revisit our September 2009 Q&A with Mike Clark.
Contact us.
Join Hollywood Drum on Facebook // Twitter.
Special thanks to April Williams at Upstairs at Vitello's.