October 30th, 2011
Double Hitter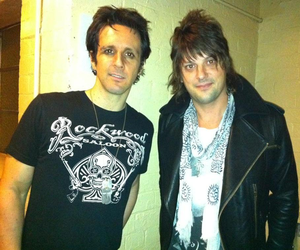 Halloween Night Of Fear 2011, UK. Smell my feet.
Hot Poolside Action
Unlike most poolside videos filmed in the San Fernando Valley, the only money shot here was the $8 on Starbucks. And the only fluffing going on was of hair. Good thing. Hollywood Drum recently got Glen Sobel and Jason Sutter–both hot-off summer tours–together by Sutter's backyard pool, called "action" and let the camera roll.
A Coming Together
Sutter, who previously played for Smashmouth, Chris Cornell, and Foreigner, spent his summer out with seminal 70s glam-rockers, New York Dolls. Sobel was just home from his first tour with another 70s icon, Alice Cooper. Both bands towered early in the era's music and culture landscape, and continue to cast long shadows of influence. The subterranean, trans-everything basement art-punk of the Dolls, and the subversive, counter-everything theatrical shock-metal of Alice Cooper were archetypes for emerging genres. Urban rock clubs and mid-western arenas would be changed forever. Generation gaps and parental dismay, however, would remain as always.
The connection is more than theoretical. Cooper and the Dolls have teamed for a week-long Halloween Night Of Fear Tour in the UK. Spooky. And Sassy. It was only right that Sutter and Sobel would also team for an hour-long Early Afternoon Of Hot Poolside Discourse in the L.A. Valley. Sassy. And Spooky.
We present the result here. Two busy L.A. rock drummers talking about their summers, drums and drumming, 70s rock n roll, and sharing a candid perspective of life on the road. Have a look. You know you wanna.
Contact us.