February 21st, 2011
Hittin': Bill Stewart @ Vitello's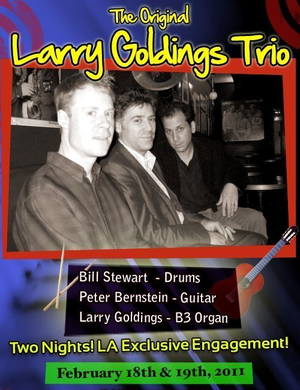 Reunited…
Like I said in my last Hittin' post, I'm a sucker for an organ trio. When the anouncement came that L.A.'s most ubiquitous B3-master Larry Goldings would be re-uniting with Peter Bernstein and Bill Stewart at Vitello's for two nights this past weekend, I puckered up.
The three made their name collectively and individually when they first teamed in 1988 for weekly gigs in NYC. The trio has continued to evolve for over twenty years now and earned recognition as one of the genre's all-time greats. From those seminal shows, Stewart went on to acclaim and drum-hero status with Maceo Parker, John Scofield, Pat Metheny, and as prolific bandleader. Still based on the east coast, he is a somewhat rare sighting in L.A., and the opportunity to see him just up the street in this musical setting was not to be missed.
Upstairs at Vitello's is a Hollywood Drum friend and favorite. We reviewed a show there before and subsequently filmed on-location for our first Hollywood Drum Before Dark segment. Bookings like this one add to the club's growing reputation as one of L.A.'s best jazz rooms. We made the final late show Saturday, and easy curbside parking on the cool, wet night was a good start. As were seats with a straight eye-line to the Gretsch-inspired (wink) four-piece arrayed with three high-ish, tilted Zildjians. The room was mostly full.
…And It Feels So Good
I saw these guys play about five or six years ago at the old Jazz Bakery. The things that made them great then are still the things that make them great now: world-class musicianship, symbiotic chemistry, sharp composition, hip concept. It's all there. The evolution is subtle yet discernible. If rock is like beer—best when fresh; jazz is more wine. Over simple? Clearly. But, where the raw energy and cocky surety of youth subsides, the refined wisdom and humble confidence of maturity unfolds…ideally. The process just seems to serve jazz musicians well. (Nothing personal against Mick Jagger.) Six years later, the trio exhibited a bit more relaxed approach to their instruments and a slightly heightened (deepened?) sense of purpose. It was interesting and satisfying to hear these musicians who have grown together and separately over twenty-three years reunite.
Balancing Act
As the trio winded their way trough a mix of Goldings' originals and deconstructed standards, Stewart's brilliant drumming lit the way. Improvisation, essentially, is spontaneous composition. Some improvising musicians tend to be more spontaneity-driven; some more composition-minded. Stewart manages a compelling balance—supreme control of the instrument and attention to detail complement trusting abandon and big-picture sensibility.
Heads are thoughtful and defined; time-keeping is dense, interactive (physically and musically) and unrelenting; solos are hypnotic, polyrhythmic, and contoured. Everything is round, deliberate, and suh-winging. He created vibey mood on the slower pieces; seamless propulsion on the mids and burners; spasmodic motion and color in the free sections; and hints of cold-sweat syncopation from the Maceo days on a loose, funky straight-eight tune. Square-jawed, stone-faced and serious from the neck up, his body language is circular, fluid and playful. The visual contrast seems fitting.
Open Mic
Goldings is funny. Forget all that talent and resume stuff. Perhaps final-show fatigue and a leaky roof just above his organ on a rainy night had something to do with it, but a bit of slap-happy humor overcame him. During a certain rather lengthy and tangential, hazy but witty, out-loud runaway train-of-thought about set order and song titles (or something) that had me giggling well into the next tune, he—somewhat genuinely confused—checked out the mic and asked, "Is this thing on ramble mode?" I kinda feel the same way right about now. Great show!
Contact us.
Join Hollywood Drum on Facebook // Twitter.
Post your very own show reviews on the Hollywood Drum Forum.
Thanks to April Williams and Upstairs at Vitello's.