July 9th, 2011
Hey, San Jose!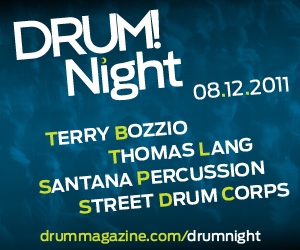 From Press Release:
San Jose, Calif., — Enter Music Publishing, publishers of hip drumming magazines online and offline, isn't just obsessed with selling magazines. The company has a strong commitment to the community and drummers in need.
Last year, Enter Music Publishing, in conjunction with the San Jose Jazz Festival, sponsored Rhythm Night, a benefit for the family of deceased Little Feat drummer, Richie Hayward. The night was a tremendous success with more than 500 drummers and fans attending.
This year, Enter Music Publishing is sponsoring its second annual benefit, DRUM! Night, which promises to be an exciting drumming festival with a diverse lineup of drummers and percussionists. On Friday, August 12, drummers will descend on the San Jose Repertory Theatre in the heart of Silicon Valley to witness an evening of amazing drum clinics and performances by Terry Bozzio (Frank Zappa, Missing Persons, Jeff Beck), Thomas Lang (Spice Girls, Tina Turner, Stork), and Santana's fiery percussion section: Karl Perazzo & Raul Rekow, with special guest Armando Perraza (formerly of Santana).
The event will actually be kicked off at 4:30 in the afternoon when Street Drum Corps puts on a street concert outside the venue.
The concert also includes a raffle of thousands of dollars in drumming gear. Proceeds will be donated to the Performing Arts Music Program at Lincoln High, a San Jose magnet school. With over 40 course offerings in dance, music and theater arts, more than 900 Lincoln High students of all ability levels study and learn to attain the highest levels of achievement.
"We're really enthused to be sponsoring this event to assist music education in schools," said Phil Hood, publisher and co-founder of Enter Music Publishing. "San Jose schools have a great reputation when it comes to the performing arts and we're dedicated to supporting the arts through events like DRUM! Night."
Doors will open at 5:00, an hour-and-a-half before show time, allowing
attendees to have their stick grips analyzed and tuned-up by local drum teachers, witness music demos, test new drum gear, and get in on a special autograph session featuring Brian "Brain" Mantia (Guns 'N Roses, Primus), Jimmy DeGrasso (Megadeth, Alice Cooper), and other notable Northern California drumming dignitaries.
Like last year's Rhythm Night, DRUM! Night will help kick off the 22nd Annual AT&T San Jose Jazz Festival, one of the largest open-air jazz festivals in the world. SJJF closes off the entire downtown area, erects multiple outdoor stages, and draws up to 100,000 music lovers who converge from Friday afternoon to Sunday evening to enjoy jazz, blues, salsa, Latin, R&B, electronica, and many other forms of contemporary music.
For tickets and additional information, please visit here.