April 4th, 2011
To Japan. With Love.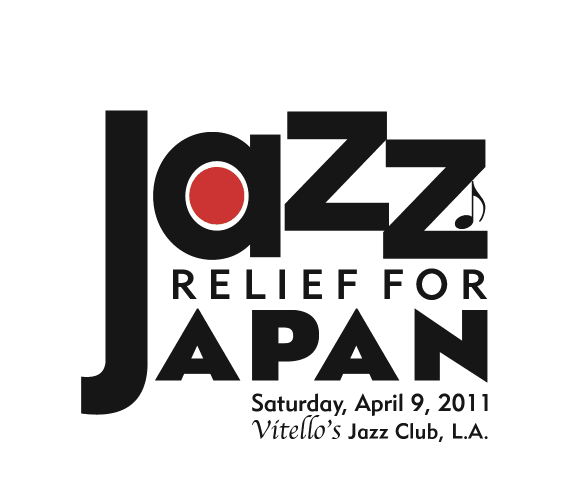 From Press Release:
Vitello's Jazz Club in Studio City in association with the Los Angeles Jazz Society asks the Los Angeles jazz-loving community to come out and support the victims of the recent earthquake and tsunami in Japan. Musicians and fans will be coming together on Saturday, April 9 for an all day / all night concert event that will raise funds for the Japanese Red Cross.
Performances continue from 11:30am until 11:00pm and those attending will enjoy the delicious Italian cuisine of Vitello's. There will also be a silent auction featuring an array of items donated by music celebrities as well as by various musical instrument and electronics manufacturers, with all proceeds going to the Japanese Red Cross.
While the earthquake and tsunami disasters have left us all speechless, the gift and power of music has inspired these talented artists to donate their time, their talent and their voices to this relief effort.
Daytime ticket: 11a-5p
11am: Doors Open – USC Honors Combo w/ special guest Bob Sheppard
12:05pm: USC Thornton jazz Orchestra big band directed by Bob Mintzer, w/ guest artists (Bob Sheppard, Dan Fornero, Peter Erskine, et al)
1:00pm: Vitello's All Stars, w/ Bob Sheppard, Larry Koonse, Tom Warrington and Joe La Barbera
2:00pm: Mitchell Long, Larry Steen, Aaron Serfaty Brazilian Trio
2:30pm: David Arnay Trio w/ Ralph Humphrey and Larry Steen
3:00pm: Takako Uemura / Japanese Lullabies
3:15pm: THE TRIO (Chuck Berghofer, Terry Trotter, Peter Erskine)
4:00pm: YELLOWJACKETS (Russ Ferrante, Jimmy Haslip, Bob Mintzer, Will Kennedy)
5:00pm: Break for SILENT AUCTION end day event
Evening ticket: 6p-11p
6:30pm: Alan Pasqua / Peter Erskine / Darek Oles Trio
7:10pm: POEM Quartet (Pasqua, Oles, Erskine, Mintzer)
8:00pm: Alex Acuña – Cajon Master
8:25pm: Franklyn Ajaye – "Jazzcomedian"
9:00pm: Grammy-Nominated Vocalist Denise Donatelli w/ Bob Sheppard sax, Tamir Hendelman p Kevin Axt bs & Ray Brinker dr
9:40pm: Wayne Bergeron Big Band
Tickets available at TicketWeb or Vitello's website.
General admission is $25, reserved seating for $50 and VIP seating for $100 (per show).
Donation-only options are available here.
For more information contact April Williams.