May 3rd, 2012
Hittin': Matt Chamberlain @ The Mint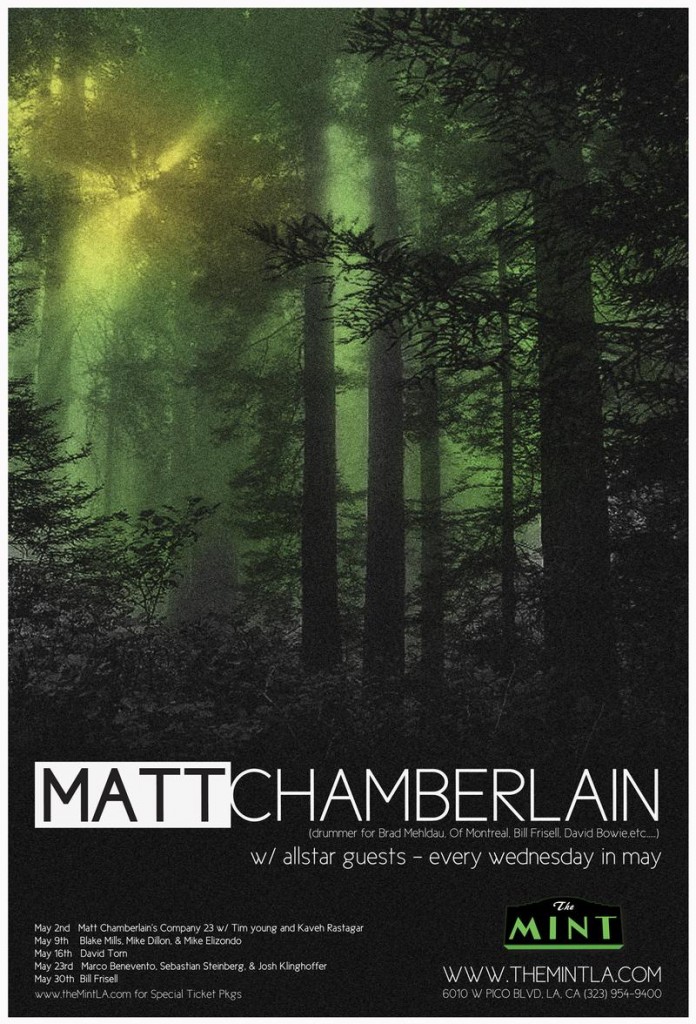 One broke guitar string, a demolished bass drum batter head, and two intense sets—three hours—of far-reaching, hard-rocking instrumental music down; four more Wednesdays in the Matt Chamberlain May residency at The Mint to go. Last night's lineup of Chamberlain with Tim Young and Kaveh Rastegar, performing as Company 23, kicked off the month of shows with a high-flyer to the one-yard-line. Game on.
Shooting Rubberbands At The Stars
I went to college with Matt at the University of North Texas in Denton, TX. Although, Matt wasn't quite "going" to college by the time I got there. He had parted ways with the renowned school of music on reportedly mutual terms and was penetrating the then fertile, writhing loins of the Denton/Dallas original music scene.
Denton was an unlikely hotbed for such creative congress. It was the disdaining, restless, pretty-hot vs. hot-pretty, curious and wildly horny hippy-chick daughter of the preacher—who happened to live in a college town. Musical experimentation and promiscuity were rampant. Good times. Matt's long-haired, anti-institution ethos and loose, singular style fed off and into the scene seamlessly. Big, graceful strokes, and a fearless, unconventional approach to the drumset and music-making became his signature at an age when many were simply trying to print their names musically.
What worked so well in the hippy-dippy jam world outside of formal music school did not seemingly bode well for a successful career as a professional journeyman musician—a path for which many of us on campus had set course. Matt was an exciting live, band-oriented player. Short of one his deserving bands getting signed (pretty much what happened, actually), it was difficult to see anything past the immediate creative boon and a diet of Ramen and Hi-Top frozen pizzas in his future.
It was impossible to imagine where he is today.
An elite, first-call, A-list studio musician and producer. A Modern Drummer centerfold and a mainstream paradigm shifter—the Keltner of his generation. Sure, it all makes sense now. Now, for many, it's less apparent that he is as vital and electric a live, pant-seat, jam-bander as ever. Only with shorter hair. And the experience and confidence acquired over one the most impressive active careers in the business.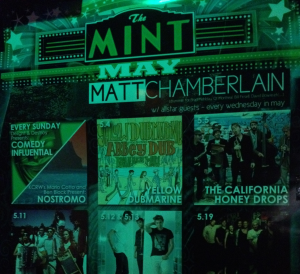 Good Company
Of the five unique residency shows scheduled, last night's trio seemed to hold the most promise to bring the rock—Matt is parenthetically listed "Drums, Electronics" on the other dates, suggesting something a bit more esoteric. The Company 23 show simply listed "Drums" in parenthesis next to his name. It was mostly accurate but for a few subtle live loops (one impromptu while Young tended to that string), and the promise of rock was kept.
The compositions were complex and varied, but never gratuitous—mixed meter, abrupt rhythm, morphing form, and poly-polar mood swings all served in deference to musical purpose. A loose, be-bop-y breeze gathered into a full-blown 60s psychedelic-rock cyclone in the time it took Auntie Em to make it to the storm cellar and lock the door behind her. We all know what happens next. The shit gets Technicolor.
Later, a hypnotic ballad foreshadowing Chamberlain's upcoming duo date with Bill Frisell pulsed around the edges of gorgeous sounding toms and tenor drum, coaxed sweetly with shaker-filled felt mallets. Then, a psycho-surf number that would make both Dick Dale and Miles smile. Two pieces that featured what Chamberlain would refer to as "The Floor-Tom Boys"—three drummers who brought their own floor-toms and crammed hand-scratched odd-meter parts in answer to a last-second Facebook post promising free drinks and admission—placed the percolating percussion section at the center of droning and tripped-out guitar and bass.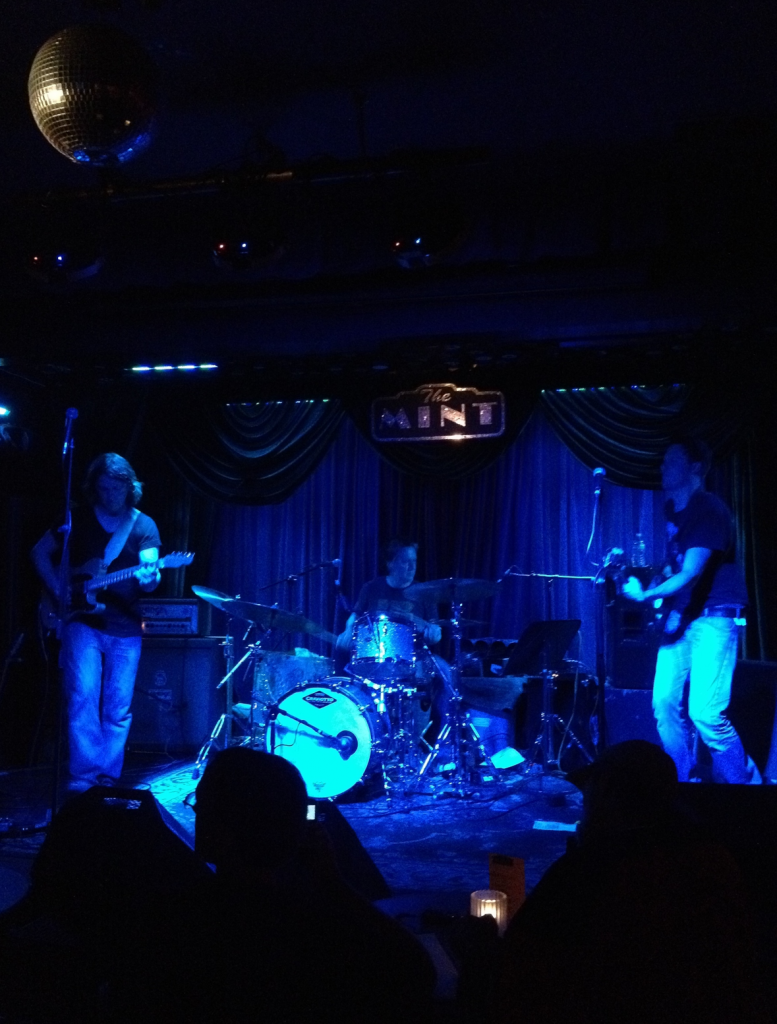 Young and Rastegar are monsters, as anyone plugged into the L.A. scene well knows, and have a history with Chamberlain. Still, it was startling to learn that they pulled this thing off with barley a rehearsal. And by "pulled it off" I, of course, mean they nailed it with your momma's hammer. Unison rhythms were in unison. Interaction was interactive. These compositions demanded a high level of musicianship and these musicians delivered. It didn't hurt that Chamberlain's muted drums and cymbals blended perfectly and the front of house sounded better than ever in that room. Or, that a sadly earnest bubble machine manically blew a slender but steady stream of soapy magic toward the ceiling from the bottom left of the stage.
Quadruple Encore
This trio had the weight to play the Baked Potato and the appeal to fill The Roxy. The Mint is actually an ideal blend of both and was a fitting match. The long-standing club is appropriate as a listening room without the static classroom feel that sometimes accompanies your oversize potato and two-drink minimum; it hangs as a rock club with added intimacy. And as it turned out, turn out was just enough to warm the place, but not too much to obstruct a clear view over the mostly-filled tables surrounding the stage. Things thinned a bit for the second set.
As mentioned, every Wednesday in the residency is unique. Check the event flyer for lineups and The Mint for ticketing information.
No promises of broken strings and demolished drum heads to come, but one thing is certain: the drummer will rock.
Contact us.
Join Hollywood Drum on Facebook // Twitter.
Special thanks to Leslie DeHaven at Audacity Management.