June 4th, 2012
Robert Walter Allstars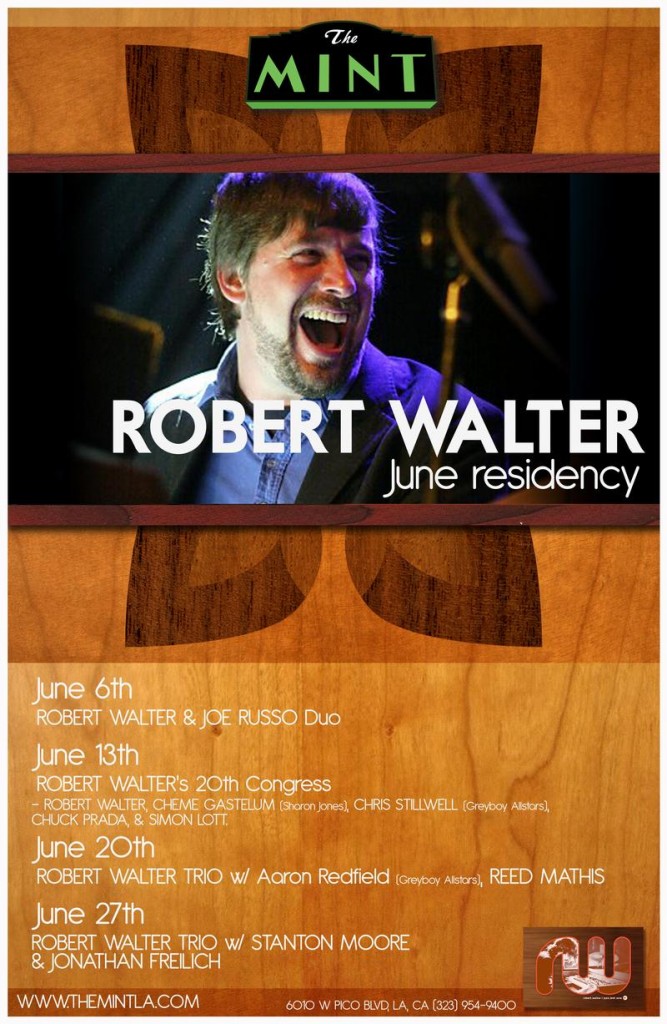 From Press Release:
Robert Walter is an accomplished keyboardist and composer. He plays Piano, Hammond B3 and Fender Rhodes. While touring extensively in the US and Europe, he has worked as a leader and sideman with many of the giants of American jazz and funk music.
Robert grew up in San Diego, California where he studied music from the age of 7 and began performing in bands as a teenager. He helped form the the Greyboy Allstars in 1993 with Karl Denson, Elgin Park, Chris Stillwell, Zak Najor and DJ Greyboy. Influenced by soul-jazz and funk records from the 1960s and 70s, the band juxtaposed jazz improvisation and dance music.
In the late 1990's Robert started his own group Robert Walter's 20th Congress to showcase his composing. The band became known for it's live performances and toured throughout the 90s and 2000's.
During this period Robert also recorded There Goes the Neighborhood with jazz-funk pioneers Harvey Mason, Chuck Rainey, Phil Upchurch and Red Holloway. Robert relocated to New Orleans in 2004 and became immersed the vibrant local music scene. He began collaborating with Johnny Vidacovich, Stanton Moore, James Singleton, George Porter Jr., and many more.
While in New Orleans he recorded Super Heavy Organ and Cure All as well as albums with Stanton Moore(III, Emphasis on Parenthesis, Groove Alchemy) and Anders Osborne(American Patchwork).
Robert currently lives in Los Angeles where he works on film music with composer Michael Andrews. They have done scores for Bridesmaids, Bad Teacher, Walk Hard(the Dewey Cox Story) Cyrus, Jeff Who lives at Home, She's Out of Your League, 5 Year Engagement and the title song for the Fox comedy The New Girl(with Zooey Deschanel).
Resident Walter
June 6th
Robert Walter and Joe Russo Duo
June 13th
Robert Walter's 20th Congress – Robert Walter, Cheme Gastelum (Sharon Jones), Chris Stillwell (Greyboy Allstars), Chuck Prada (Black Eyed Peas), and Simon Lott (George Porter jr.).
June 20th
Robert Walter Trio w/ Aaron Redfield (Greyboy Allstars), Reed Mathis (Jacob Fred Jazz)
June 27th
Robert Walter Trio w/ Stanton Moore and Jonathan Freilich
More info here. Also, Stanton Moore residency at The Mint coming in July.